Our Implant Dentistry Office in Jericho, NY
About us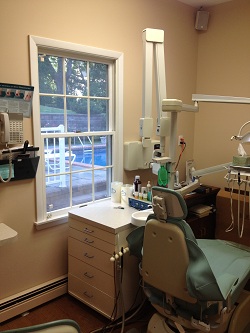 If you are looking for a well respected and highly experienced periodontist in Jericho, you have come to the right place. For more than 25 years, Dr. Warren Baine has been a solo specialist practitioner providing all types of periodontal care in the Jericho area. His practice is unique in that it is in a relaxed home office setting and the doctor provides "personalized periodontics." All services are performed by Dr. Baine himself. At our practice, you will receive the highest quality periodontal treatment with the utmost attention to detail. All of our patients are important to us and we want your experience to be a pleasant one. Dr. Baine, a knowledgeable, caring periodontist with exceptional skills and a gentle touch, will address all of your periodontal concerns and explain your treatment options. Our office uses relaxation techniques to calm anxious patients. His injection techniques include creative distraction and acupressure. Oral sedation is also available. We will be more than happy to answer all of your questions and put your mind at ease before and after your treatment.
Scheduling Appointments
To request an appointment, you can call us at the number listed above or fill out the form on our
Request an Appointment
page. We ask that if there is any reason that you cannot keep a scheduled appointment, please give us at least 48 hours notice.
Payment Options
We accept Visa, MasterCard, American Express and Discover credit cards. We also participate with many major dental insurance plans, which are listed below. If your plan is not listed, please call us and ask because we may accept it.
Aetna PPO
DHA/First Fortus
MetLife
United Concordia
Ameritas
Empire Blue Cross/
Blue Shield
Northeast Dental Plan
CIGNA PPO & DMO
GEHA
Oxford
DDS
Guardian
Qualident
Delta Dental
MDNY
Signature
Convenient Location
We are located at 302 Ivy Hill Court, Muttontown, New York 11753. The office is attached to home, entrance is on left hand side of house. Parking is available on the property adjacent to the office. For directions to our office, please
click here
.